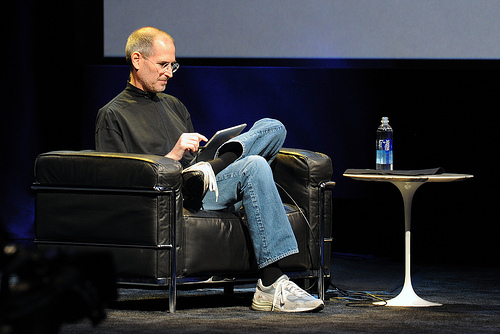 Some guy (not me) using his iPad.
Used with permission, CC 2.0: Matt Buchanan
I've owned my iPad for about a month now. I got the 16GB, WiFi-only model because I figured it would be a good way to get my toes wet without breaking the bank.
I intended for it to become my primary interface at home for email, browsing, and light document development. How has it performed? Fabulously! It's done all that and more.
Things I love about my iPad
The interface rocks the caspah. It's simple. You press a button and it starts up. It's flat. It stays cool; It doesn't burn my legs like my MacBook Pro. It doesn't weigh much. The screen is crystal clear (my photos look like they were taken by a professional!), and I can lock the rotation with the switch above (or to the left of) the volume control.



The battery lasts forever, at least compared to the now useless one in my portable, and the pad's smaller cousin, the iPhone.



The apps give me what I need. I can surf the web; write blogposts; organize, compose, and respond to emails; watch television and movies in HD; review PDFs, videos, documents, and images for work or personal use; download, read, and interact with ebooks using iBooks, Kindle, Nook, etc.; maintain ongoing dialoge in various social media applications. I have yet to pay for an application (though I will soon).
Things I don't like about my iPad
Why is the volume button mounted on the upper right? If I'm holding my iPad in portrait mode (with the Home button at the bottom), the volume control works predictibly. "Up" raises the volume and "down" lowers it. But if I rotate the pad to landscape mode, suddenly "left" is raising the volume and "right" is lowering it.

For a right-handed world, if the volume control was placed on the top edge, it would function consistently. Or, Apple should reverse the control when the device is rotated. I get self conscious when I'm trying to lower the volume on a YouTube video, like I'm having a dream that I'm driving in Great Britain but everyone else is on the right.



Where's the filesystem? Yes, there are apps I can use to transfer files, carry files around, access Dropbox and Google Docs, display files, but... Can't we just have a native filesystem accessible via the cable or, preferably, the wireless interface? I can't upload pictures to Facebook through Safari? 'Scuse me?



The mobile operating system, iOS. One of the reasons it took me so long to adopt the iPad was because I agreed with the general criticism that it's an "oversized iPhone." I wanted a keyboardless Mac Air. I still do. I have plenty of desktop productivity apps I'd love to load onto my iPad, but I can't. Sure, Documents To Go does a pretty good job of emulating Microsoft Office editing capabilities. But it's still doing it on a mobile app. I feel like a Pop Warner football player on an NFL field.



USB? C'mon, Apple. You really have to milk another $30 out of me just so I can plug a peripheral into this? I suppose this goes hand-in-hand with the previous item, but I'd have quite a compelling device with wide support for USB peripherals on a desktop-like machine.
All this being said, the iPad is a very capable device. At about a quarter of the cost of a powerful, top-of-the-line portable, I have the vast majority of the functionality I need for productivty and authoring. It's not for everyone, but it sure works well for me.
Questions: What do you think of your iPad? What would you change? Are you tempted by any of the competitive devices starting to emerge, like RIM's PlayBook or Cisco's Cius?